Clinical Review & Resolution:
DRG Outlier
Tulane Medical Center
Length of stay:

 

54 days
Bulk of Adjustments due to Billing Error – pharmacy dosing. 
POSACONAZOLE 105 ML LIQ – Facility billed 105mL daily and recommended dose is 10mL twice a day.
Given this, 105mL should last 5 days, resulting in Equian questioning daily billed charges of $241,024
AMPHOT B LIPOSOME 50 MG – Dosing appears excessive. Average expected dose is 245-400mg per
day and total dose billed is 4,000mg. Equian is questioning billed charges of $1,931,046.
""This has been a tremendous partnership"
– Senior Director from Plan
Equian's Clinical Review & Resolution impacts high-dollar, inpatient claims reimbursed on a percent of billed charges or DRG cost outlier. In this case, Equian's clinical staff found unreasonable doses of antifungal agents billed at 10 times the recommended dosage.  By adjusting the charges to what can safely and effectively be given to a patient in a treatment day, Equian was able to reduce the billed charges on the claim by almost $2 Million. Thus, the allowed charges on the claim were below the DRG Outlier threshold and our client only had to pay the DRG base rate. This saved our client over $200,000 in reimbursement costs.
Impact of Equian Review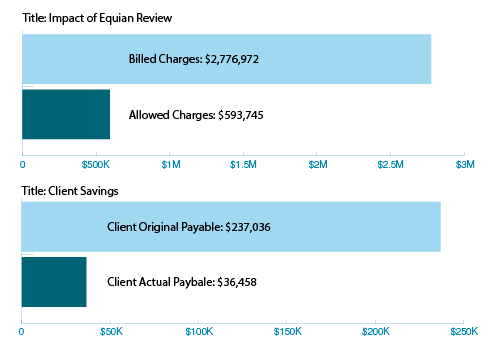 Client Savings: $200,578
Client Savings Percentage: 84.62%
Our hands-on inpatient clinical and financial review leverages CMS clean claim principles and focuses on inpatient claims.
Equian performs a thorough and comprehensive review of each claim's itemized bill to identify defects and improprieties. We employ sophisticated technology and data analytics in addition to expert clinical review by nurses, physicians, accountants, and certified coders to identify errors and compliance issues before the claim is paid. Once billing adjustments have been identified, our expert resolution team of negotiators and medical professionals work with the provider to explain our findings and come to an equitable resolution.
Explore Equian's comprehensive, integrated Clinical Review & Resolution