Workers' Compensation: 
Clinical & Coding Logic Edit Reductions
Scenario
Equian's proprietary Clinical & Coding Logic consists of over 100 unique rules that are above and beyond the industry-standard edits used by the majority of bill review platforms. In this case study, a CCL audit of an Anatomic Joint Space bill resulted in savings of 55% below fee schedule for the client.
"Our transition
to Equian resulted in an overall reduction of 8 – 10% in medical expenditures on
a bill-by-bill basis"
– Senior Vice President, Underwriters Safety & Claims
In this scenario, a surgeon submitted a bill for rotator cuff repair (CPT 29827), distal claviculectomy (CPT 29824), debridement (CPT 29823), and lysis of adhesions (CPT 29825). All procedures were performed via arthoscope on the RT shoulder. The provider also billed HCPCS code 0232T for injection of Platelet Rich Plasma (PRP).
CPT Code Review
There are NCCI edits (Column 1/Column 2 relationships) for codes 29823 and 29825 when billed with codes 29827 and 29824. As a result, payment for codes 29823 and 29825 is bundled into the payment rate for 29827 and 29824. The provider appended modifier "59" to 29823 and 29825 in order to bypass this edit and receive payment for all 4 codes. After careful review using national code auditing foundations, Equian's certified coding and reimbursement staff determined that modifier -59 was reported incorrectly. The billing for CPT codes 29823 and 29825 was denied.
HCPCS Code Review
HCPCS Code 0232T describes an injection procedure. According to the AAOS, August 2010 Bulletin, this code is to be used only when PRP is performed in a completely separate encounter from the surgical procedure. As a result, billing for HCPCS Code 0232T was also denied.
Impact of Equian Review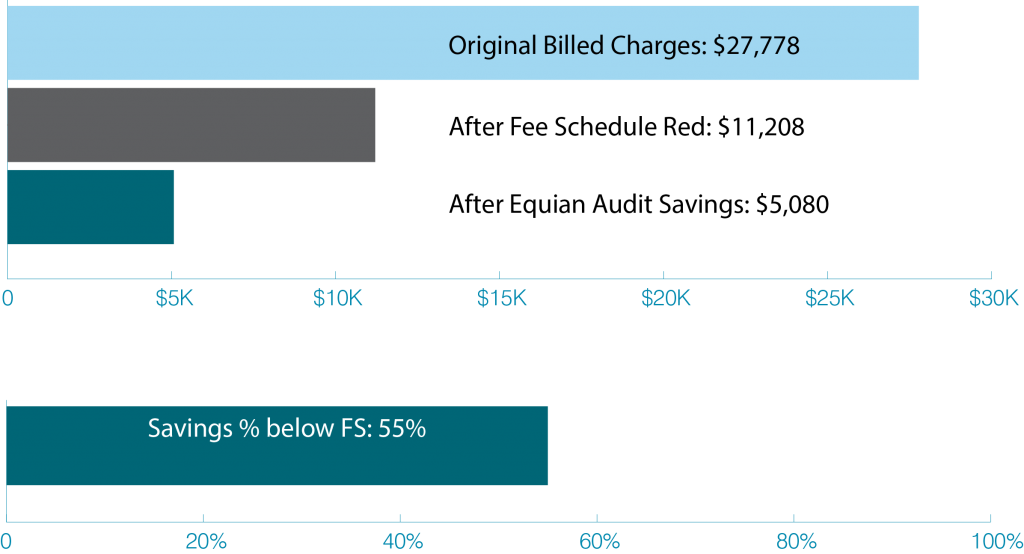 Audit Savings: $6,138
55% Savings Below Fee Schedule
Equian goes beyond typical medical bill review, digging deeper into billed charges at the line level to identify errors and patterns of inappropriate billing. We address market gaps in payment integrity for Workers' Compensation through our Clinical & Coding Logic solution.
To ensure Payment Integrity in Workers' Compensation, our Clinical & Coding Logic solution includes incremental rules and edits that exist above and beyond industry standard edits found in most review platforms. This additional rule logic is based on coding foundations and principles sourced to the American Medical Association's CPT guidance, Medicare methodology, specialty society guidance, our proprietary database for implant/supply costs, industry benchmarks, and national payers' payment schedules.
Explore Equian's comprehensive, integrated Workers' Compensation platform, which includes Medical Bill Review, Clinical & Coding Logic, Pharmacy & DME, and Predictive Analytics solutions.