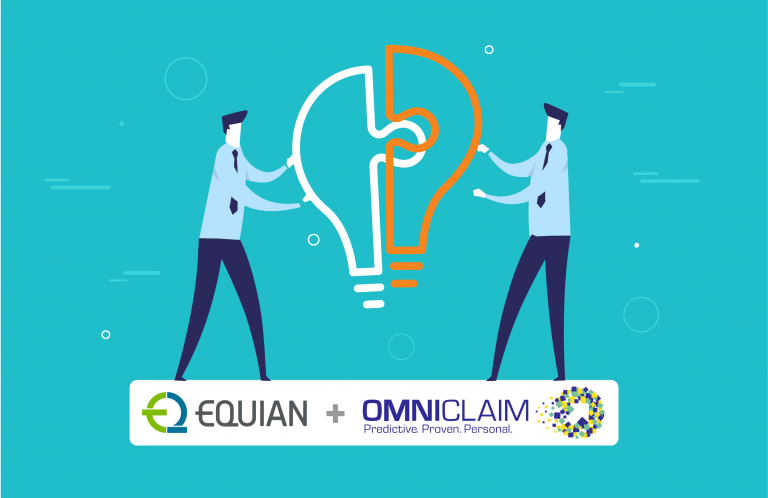 Adding Incremental Depth to Post-Payment Audit
February 27, 2018. Indianapolis, IN. Equian today announced its acquisition of OmniClaim, further strengthening its market-leading position in payment integrity. The acquisition represents another important step in support of Equian's strategy of providing large-scale, end-to-end solutions using advanced analytics to assist its clients with medical cost management.  OmniClaim is a market leader in post-payment provider audit and utilizes a unique approach to working collaboratively with the provider community.
"A critical objective for payers is ensuring accuracy and minimizing cost while being proactive and working closely with very important provider and network partners.  Equian's approach perfectly aligns with ours: using analytics for smarter claim selection, thereby reducing the number of audits, but still maximizing savings," said Nadine Hays, OmniClaim Executive Vice President. "Our team is excited and confident the business will continue to thrive under Equian's innovative leadership and culture."
"We are delighted with this addition to our organization. OmniClaim is a clear category leader with a forward-looking approach to post-payment provider audit.  We are confident in our strategy of advancing our solutions through focused investment and application of the latest in analytics and technology capabilities.  This acquisition helps augment our position as a clear leader across payment integrity product categories, and will enhance the value we provide to our client partners," stated Shankar Narayanan, Equian Chief Operating Officer.  See Video attachment for further acquisition information from Mr. Narayanan.
"OmniClaim's proprietary technology and strong client base are complementary to Equian's, creating an unmatched set of services in the healthcare market that will enhance results for both companies' clients," said Mike Morrison, Equian Chief Revenue Officer.  "OmniClaim's unique claim scoring approach, audit algorithms, staff expertise and white glove approach with providers will help us accelerate our expansion in this important payment integrity segment."
As full-service payment integrity leader, Equian is known for driving technological advancements across all categories of payment integrity and has made significant investments in data analytics, claim scoring, artificial intelligence, robotics and machine learning to bolster its market-leading position. The combination of OmniClaim and Equian will drive significantly increased value to audit clients, bringing a new level of effectiveness and focus on provider relations.
About Equian
Equian is a leading end-to-end payment integrity organization.  The company manages over $300 billion in claims data annually on their innovative platform designed to assist clients by avoiding, identifying, pricing, analyzing clinical codes, and ultimately recovering inaccurate transactions in the complex environments of healthcare, workers' compensation, and property & casualty markets.  Equian acts on data to pay the right party, the right amount, at the right time, delivering over $2 billion in actionable savings throughout the payment spectrum to the company's nearly 400 customers. For more information, visit equian.com. 
About OmniClaim
OmniClaim is an industry leader in overpaid claims recovery, delivering superior financial results while minimizing provider abrasion.  The company's combination of strong relationships with payers and providers, proprietary predictive analytics, and unparalleled subject matter expertise ensures it consistently delivers on aggressive goals and produces optimal results for clients.  OmniClaim's credibility and onsite presence with over 3,000 provider organizations nationwide leads to more successful audits with fewer appeals. The company's 100% client retention since inception is a testament to its results. For more information, visit omniclaim.com.
#
CONTACT:
Mike Morrison, Chief Revenue Officer
317-806-2128
mmorrison@equian.com